Energy ball and date ball machine
Short Description:
The fully automatic and stable encusting machine adopts all-stainless steel 304 material, and the spiral adopts Teflon durable PU material. The food is safer and CE certified, in line with EU standards.
With the latest improved roundingmachine and powder coating machines, the ball products are more beautiful and more popular with customers!
Port: Shanghai
Payment Terms: T/T;L/C;CASH
Min.Order Quality: 1set
Supply Ability: 1-20set/month
Product Detail
Specification
Video
Product Tags
Energy ball and date ball machine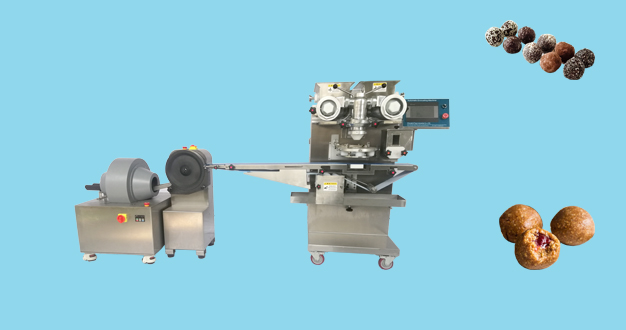 Description:
Automatic energy ball and date ball machine is to copy manual making ball shaping of energy ball,dates ball,yolk ball,fish ball,meatball and so on.the ball produced is with high density,good roundness,center core filling without leaking. The energy ball/date ball machine only requires putting the paste and filling in two different feeding hopper, all rest process automatically.
Features:
1.Stainless steel 304,meets food hygienic standard.
2.Product diameter10-50mm,ratio and speed adjustable.maximum capacity 100pcs/min.
3.Automatic operation,rational structure,easy clean. 
    Encrusting making machine is the main equipment used to cut dough or mix raw materials. Encrusting maker has two hoppers, the left side is used to put normal casing, and the right side is used for center stuffing. Each hopper is equipped with two spiral screws or a horizontal design, which are used to extrude it downward to the extrusion pipe and nozzle, and finally cut by a hopper.
    In addition, encrusting making machine can place manual operation, it is controlled by PLC with a touch screen panel, is a fully automatic machine.
Date ball rolling machine is the second machine connected after the encrusting making machine. The date ball rolling machine adopts a 304 stainless steel structure and aluminum rollers and adjusts the speed and treatment for each ball. The rolling range of the ball diameter is 10-50mm.
   The date ball coating machine also adopts a stainless steel structure and aluminum, which can coat coconut flakes, mashed nuts, powder, seeds, etc.
Balls Made By Protein Ball Making Machine: 
Energy Balls contain satisfying protein, high-quality carbohydrates, healthy fats and high fiber. Each ball gives you 100-250 calories, depending on the ingredients. Plus, the energy balls are portable, so they're the perfect healthy on-the-go snack before and after your workout! Our energy ball making machine can completely replace hand-made energy balls, greatly improving production efficiency, saving time and creating more wealth for customers.
The cake pop machine can be used for ball-shaped rounding, and can also make layer cake balls. According to the current technology, we cannot make sticks for the time being. The customer needs to insert the stick manually. The PAPA Cake pop Maker is ideal for high volume cake ball makers, the cake ball making machine can also be used for cake pops, cake balls and snow balls.
Protein Ball Making Machine Specifications: 
| | |
| --- | --- |
| Model | P160 |
| Capacity | 60-100 PCS/MIN |
| Product Diameter | 10-50MM |
| Power  | 2.55KW |
| Voltage | 220V/50HZ |
| Weight | 380KG |
| Dimension | 2400*860*1300MM |
Energy ball and date ball making machine working video:
Energy ball and date ball machine testing video:
Center filling energy ball and date ball machine video:
     About us
    Shanghai PAPA Industrial Co.Ltd, established in 2014, is located near Shanghai Hongqiao and Pudong airport. Short distance, convenient for customers to visit the workshop. After more than 10 years of experience and technology accumulation, our company has a first-class production base and R&D building, as well as a full set of processing equipment. In addition, we also have a group of senior engineers and technicians who design and improve the best machines according to the different requirements of customers and provide customers with test bases.
     PAPA Industrial has full before-sales and after-sales services for our protein ball-making machine customers. We supply customer inspection in person or by a third-party service, customer learning in person or on-site services, customer training step by step services, and customer installation and commissioning on-site services.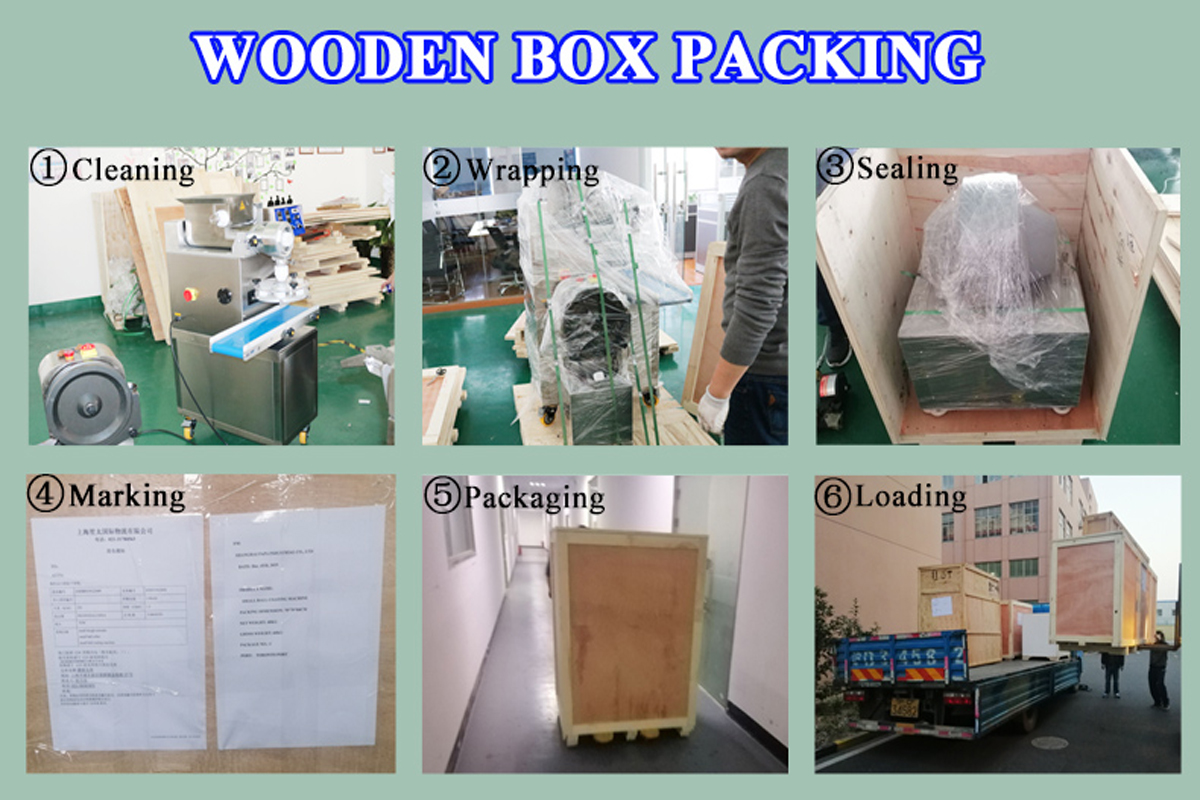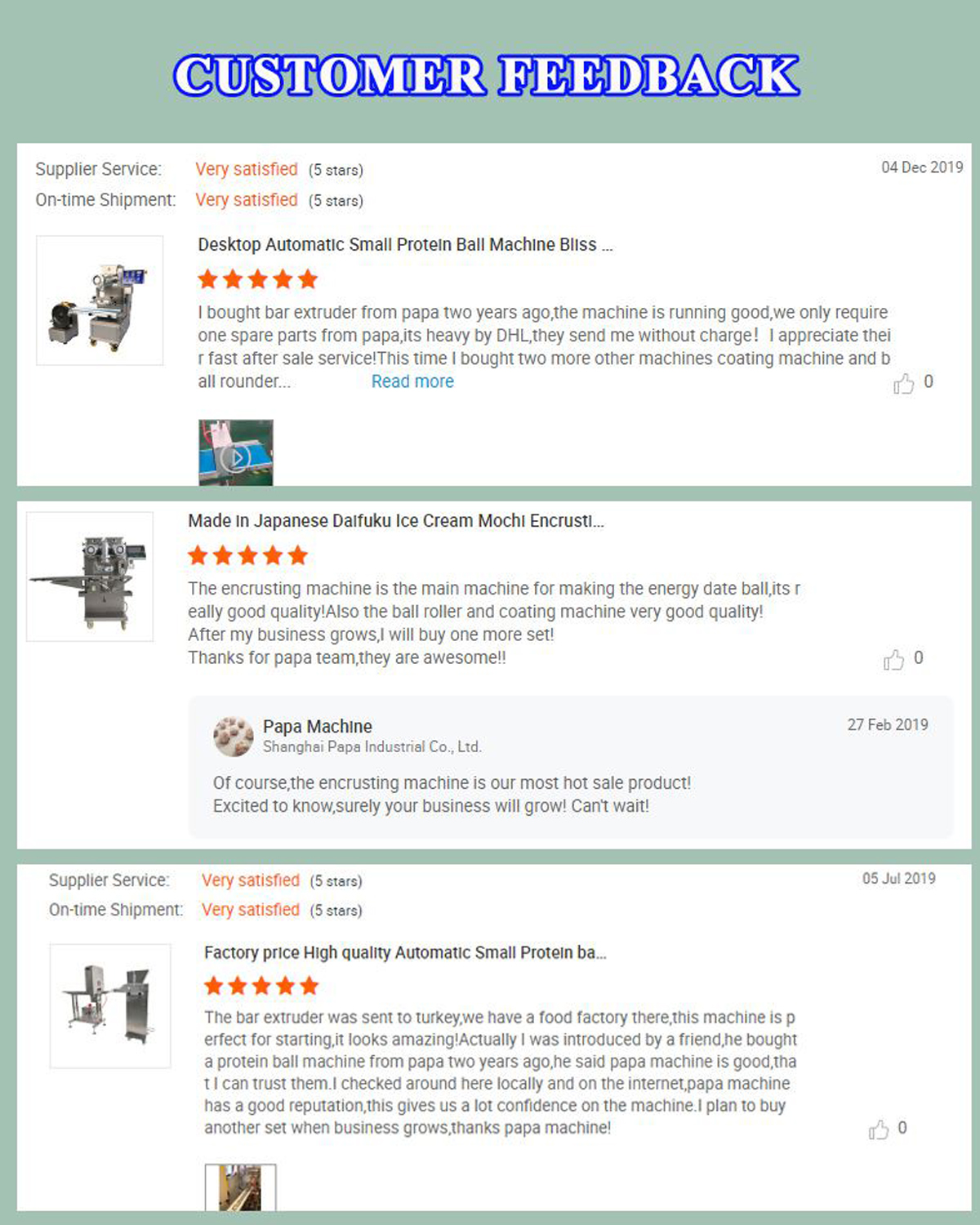 Product detail pictures:
---
---
---
| | |
| --- | --- |
| Model | P160 |
| Capacity | 60-100 PCS/MIN |
| Product Diameter | 10-50MM |
| Power | 2.55KW |
| Voltage | 220V/50HZ |
| Weight | 380KG |
| Dimension | 2400*860*1300MM |